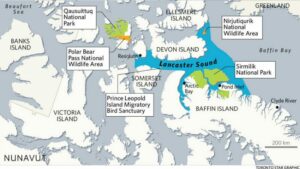 As Canada prepares to establish what will become the largest protected area in the country — Tallurutiup Imanga — the Inuit communities that live nearby are aiming for full Inuit management of the region, which covers the eastern entrance to the Northwest Passage.
"What we're envisioning is for Inuit to fully manage and control the conservation area," said Sandra Inutiq, the Qikiqtani Inuit Association's chief negotiator for the Tallurutiup Imanga Inuit impact and benefit agreement.
"We're the ones living there, we're the ones that have the knowledge of the land and the waters and we're the ones that will continue to be there," said Inutiq, who was in Toronto last week for the Canada's Oceans: Towards 2020 conference at the Royal Ontario Museum.
…