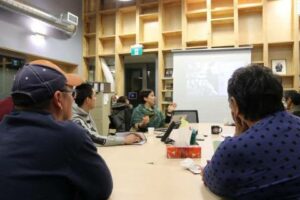 Tallurutiup Imanga IIBA work begins
by Michele LeTourneau– January 26, 2018
The five communities closest to the new Tallurutiup Imanga National Marine Protected Area, announced last August, received presentations that will help them contribute to an Inuit Impact Benefit Agreement (IIBA).
Qikiqtani Inuit Association (QIA) chief negotiator Sandra Inutiq kicked off what will be a series of visits that should see an agreement signed by March 2019. The IIBA and the management plan are being developed simultaneously.
"It's a very tight timeline," said Inutiq.
The first January trip saw Inutiq presenting in Resolute Bay, Grise Fiord and Arctic Bay, while on a second trip she presented in Clyde River and Pond Inlet.
"There will be different visits, a bit more focused, in the future. For example. we'll have management plan visits and we'll have visits with the federal government, as well," said Inutiq, adding there was the option to include the federal government for this round.