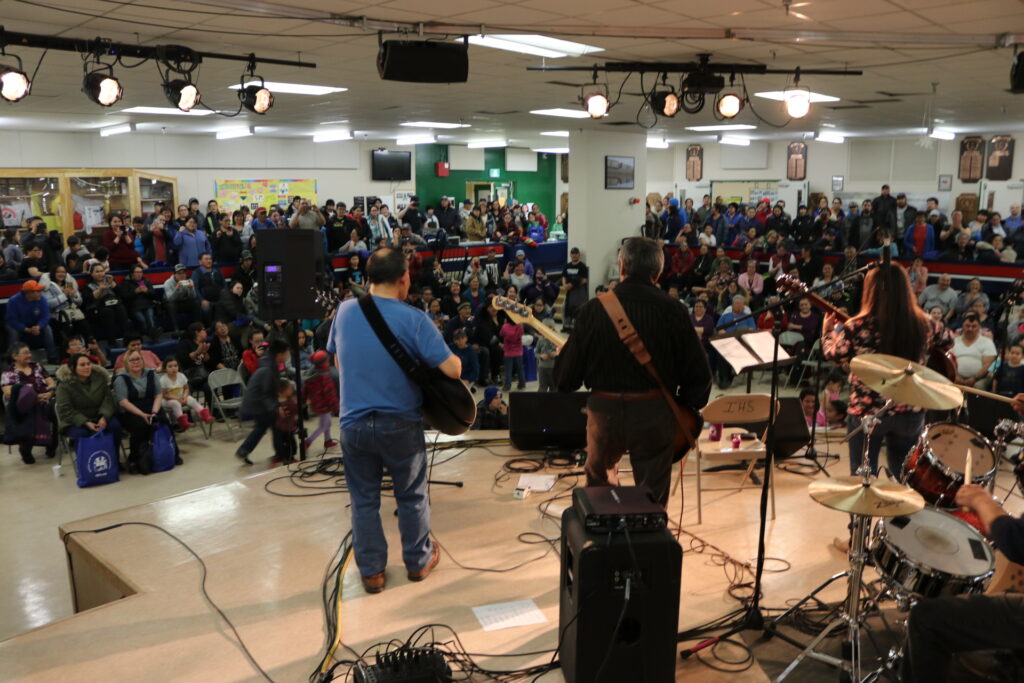 We had a very productive Annual General Meeting and board meeting in Iqaluit on the first week of October, which also included a large community feast with a performance by Uvagut band and tons of great prizes like airline tickets.
One of the highlights was the decision of the Qikiqtani Inuit Association (QIA) Board of Directors to pledge support for the establishment of a Nunavut Heritage Centre with up to $5 million.
The QIA board want to see a Nunavut Heritage Center on Inuit Owned Lands in Iqaluit. They believe that it is time for Inuit artifacts and ethnographic material to be returned to Inuit homelands.
Nunavut continues to be the only jurisdiction in Canada without a designated heritage space to house and present its history. The Government of Nunavut continues to expend over $1 million annually to cover the cost of storing and preserving more than 140,000 Inuit artifacts on locations outside the territory.
The Nunavut Agreement recognizes the need to establish facilities in the Nunavut Settlement Area for the conservation and management of a representative portion of the archaeological record.
QIA will follow through with its support provided that the $70 to $90 Million project will receive its financing through the territorial and federal government and a number of other factors to allow the project to go through.
QIA would like to encourage other stakeholders to do their part to make the Nunavut Cultural Centre a reality in the territory. A collaborative approach between the Government of Nunavut, Inuit Organizations and other relevant organizations is needed to advance the Nunavut Cultural Centre.
Creation of new key QIA programs
One of the most exciting developments ay the meeting was the creation of new key QIA programs. These new programs were developed based on the input QIA received from all 13 Qikiqtani communities during our community consultations this past spring.
QIA now has a daycare and early childhood education program which includes two projects: Parental subsidy for daycare and new resources for daycares.
For the Parental subsidy for daycare project QIA is offering a $5 daycare subsidy top-up to Qikiqtani families registered under the Nunavut Agreement who have a child enrolled in a licensed daycare facility. That means Qikiqtani Inuit parents who are currently receiving Kakivak's $19/day subsidy will now get $24/day of subsidy for daycare.
The Subsidy will be offered from October 2017 to March 2019 with the possibility of renewal upon QIA board approval. This QIA subsidy is worth up-to $1,250/per child per year in savings for Qikiqtani parents.
QIA is also developing new culturally relevant resources for daycares in Qikiqtani. Many Inuit parents have identified the need for resources – such as books, games, or toys, which are in Inuktitut and based on Inuit culture. These resources will be ready to be delivered to Qikiqtani daycares in 2018.
We have also developed QIA's Cultural Activities Program (Q-CAP). This program will deliver up to $33,000/year of cultural activities to Qikiqtani communities.
Qikiqtani Inuit identified the needs for cultural programs that help to foster traditional skills and strengthen Inuit identity. There was also a need identified for cultural programs delivered by QIA.
That is the reason QIA created Q-CAP which is available in two ways:
The first is as application based Q-CAP projects.

This process will be similar to our former Community Initiatives Program.
Community groups, organizations or individuals can apply for funding to deliver cultural programs with a focus on land or sewing programs. QIA staff is currently working on designing the application process and guidelines. The Q-Cap application-based program will be launched in 2018.
The second is QIA delivered Q-CAP projects.
QIA staff are working with community partners to develop and pilot a cultural program. This program will be delivered by QIA in communities that do not have a Q-CAP application based project. The QIA delivered Q-CAP project will be launched in 2018-19.
The new programs stem from our new revenue policy which created the Legacy Fund and the Benefits Fund. As the Legacy Fund grows its revenues go to the Benefits Fund to increase programs for Inuit.
QIA's Ipitiki program
Another big item approved at the AGM is QIA's Ipitiki program. This new program is designed to help daycares in Qikiqtani build their capacity.
Ipitiki is also designed to increased culturally and linguistically relevant early childcare resources. The program will be delivered in 2018 and 2019.
Under Ipitiki, QIA will deliver four projects in Qikiqtani. The first Ipitiki project is a family literacy packages. The resource package will be delivered to every child in Qikiqtani entering kindergarten in September 2018. The resource package will include books, games, activity cards and other surprises to support family literacy.
The second Ipitiki project is an Elders in daycare project. This is an initiative that will support Elders involved in daycares in the Qikiqtani.
The third Ipitiki project is a daycare conference. The conference will provide an opportunity for 3-5 days of training and professional development for daycare managers in Qikiqtani.
The fourth Ipitiki project is training for daycare board members. Ipitiki is funded through $500,000 from Makigiaqta, established by the Makigiaqta Training Corporation.
The money comes from the settlement between Nunavut Tunngavik Inc. and the Federal Government.