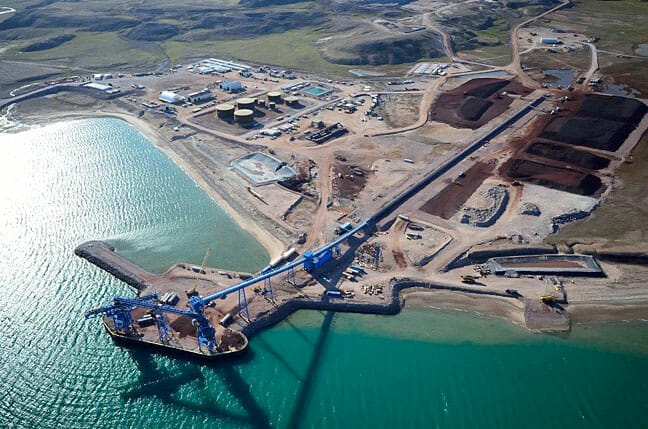 The Terrestrial Environment Working Group and the Marine Environment Working Group who monitor the impacts of Baffinland's Mary River project, held their bi-annual meeting in Ottawa on May 3rd and 4th. http://qia.ca/qia-and-mittimatalik-htos-to-monitor-environmental-impact-of-mary-river-mine/
The two groups which include representatives from Qikiqtani Inuit Assocaition, the Mittimatalik Hunters and Trappers Organization, Baffinland, and representatives from the Federal and territorial government, look at the impacts of the Mary River Project on Inuit land, water and wildlife.
The groups discussed numerous issues; there were two key decisions that may impact Hall Beach, Igloolik, Clyde River, Pond Inlet and Arctic Bay.
The first decision was to create a community based monitoring sub-group which will involve community members more in monitoring the region. The aim is to ensure that the people who are most familiar with wildlife, land and water in Mary River impacted communities can be the ones to track the impacts of the project in their backyards.
This monitoring project is separate from the pilot project that QIA started in May in Pond Inlet. http://qia.ca/qia-launches-pilot-community-based-monitoring-project-in-pond-inlet/  However, there is a possibility of joint work on these efforts. For the time being the group has decided to start this work in Pond Inlet. The sub-committee will be working on finalizing the details of this community monitoring initiative later in June.
The other important decision made at the meeting was about the shipboard monitors program which allowed monitors to travel on board Baffinland ships to see if they had any impacts on marine wildlife. This program was suspended in 2014 because of safety concerns.
Now, the group is looking at the shipboard monitors program again with hopes of relaunching it in a safer way in the near future.
Another issue raised at the Terrestrial Environment Working Group was the management of the dust generated by the mine. The haul trucks produce a lot of dust on the tote road, much more than was initially predicted.
Baffinland has created a team tasked with splashing more water and calcium chloride on the road to reduce the spread of dust.
A number of marine and land monitoring programs took place in 2016 and 2017.
Here is a list of these projects:
Summary 2016 Marine Monitoring Programs
Department of Fisheries and Oceans' Narwhal tagging program from late July to September
The Bruce Head program took place in late July through August and looked at Narwhals and how they react to shipping
The abundance and movements of Narwhals were also assessed
The HTO participated in this program and provided expertise and training for participants
Monitoring of freshwater impacts in the project area
Monitoring programs took place in Milne Port in late July to early September
They included sediment redistribution monitoring and assessment
Summary of 2017 Monitoring Programs.
The Bruce Head Narwhal monitoring is continuing
The Ballast water testing is going ahead
The marine habitat offset monitoring is also taking place
Summary of 2016 Terrestrial monitoring program
Dust fall monitoring programs

Vegetation abundance monitoring
Vegetation and soil base metals monitoring
Rare plant observations (including findings)
Helicopter flight heights analysis

Snow tracks survey;
Snow banks height monitoring;
Height of land caribou surveys;
Pre clearing nest surveys:
Cliff nesting raptor occupancy and productivity surveys
2017 proposed Terrestrial monitoring Program
April-Height of land and Snow Bank and
Snow Tracks surveys with Mittimatalik HTO
June-Height of Land with Mittimatalik HTO
June-Cliff nesting raptor occupancy survey
July/August-Vegetation plot re-assessment
August-Cliff nesting raptor productivity survey
Traffic and dust monitoring