Iqaluit, Nunavut – May 3, 2017 – The Qikiqtani Inuit Association (QIA) is now accepting proposals for the 2017-2018 Ilagiiktunut Fund.
"QIA's Ilagiiktunut Fund has provided  tremendous support for the Recreation and Parks Association of Nunavut," says Dawn Currie, the Executive Director.
"The fund has allowed us to run quality programs that foster leadership and built capacity for Inuit youth."
Thanks to financial assistance from the Ilagiiktunut Fund, the Recreation and Parks Association of Nunavut has been able to provide day camps and leadership training to over 600 children and youth in five Qikiqtani communities last year.
"QIA's Ilagiiktunut Fund made it possible for Artcirq to teach hundreds of children and youth in Igloolik circus and music skills," says Artcirq's Guilaume Saladin.
In the past three years with assistance from the fund Artcirq's youth program has trained over 300 children and youth with hundreds more joining drop-in activities.
The Ilagiiktunut Fund is an element of the Mary River Project Inuit Impact and Benefit Agreement (IIBA). It has been established by the joint contributions of Baffinland Iron Mine Corporation and the Qikiqtani Inuit Association. The Fund is administered by QIA.
Funding is available for organizations, committees, associations, and individuals based in or working in partnership with Arctic Bay, Clyde River, Hall Beach, Igloolik, and Pond Inlet.
Projects selected will demonstrate positive impacts for Inuit in the North Baffin communities, strong families, and job readiness.
Proposals will be accepted all year long.
For more information contact:
Sima Sahar Zerehi,
Director of Communications,
Qikiqtani Inuit Association
szerehi@qia.ca
(867) 975.8413
1.800.667.2742
List of programs and events that received support from the fund recently: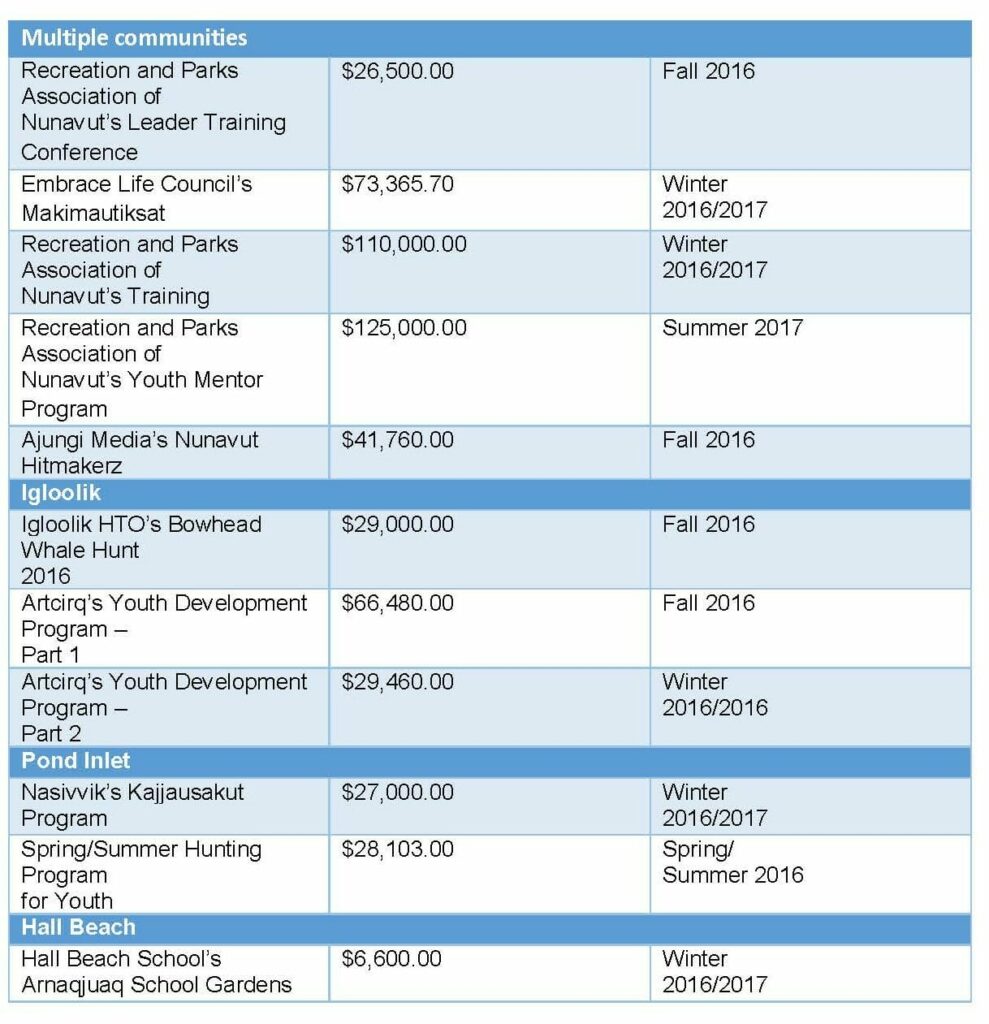 2017 – 05 – 03 – Call for applications – Ilagiiktunut Fund 2017-2018